Contact Page & Other General Information
How to contact us: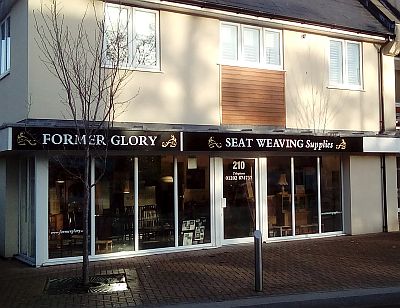 OUR PHONE NUMBER IS 01202 874737. Our offices are open Monday to Friday 9.00am until 5.30pm, visits by appointment please.
We don't have an online ordering system because every project is slightly different and to help more effectively it is better to discuss the material requirements
TO ORDER:
you can phone us on (0044) 01202 874737, or e-mail us at
sales@seatweavingsupplies.co.uk
, to request a pro-forma invoice, please tell us which materials you require. We accept cheques/postal order payment by post, credit/debit card payment by phone only please for security purposes,
PLEASE DO NOT SEND CARD DETAILS BY E-MAIL!
Materials are principally supplied by mail order, if you wish to collect in person at our shop, please phone first to avoid disappointment. All quoted prices INCLUDE VAT. Natural materials are susceptible to moisture loss, quoted weights are therefore nominal. We accept all major credit/debit cards on orders over &pound10.
SHIPPING PRICE GUIDE
- Please allow a little extra weight on order.
Up to 999 grms = &pound4.50 - 1 to 1.5 kilos = &pound6.50 - 1.5 to 3 kilos = &pound9.00 - 3 to 10kgs = &pound12.50 - 20kgs = &pound15.00
Our e-mail address is
sales@seatweavingsupplies.co.uk
, please ask any questions or tell us what you need and we can supply a reply or pro-forma invoice via e-mail if required. The vast majority of e-mails are answered within 24 hours, if you have not heard from us after a couple of days, please try again or phone us, we do occasionally receive reports that there are problems with the e-mail system.
Small samples of materials are available. Please send us a large self addressed envelope with a
large letter stamp
attached and a note of your material requirements. We will send the samples by return. Please use a large letter stamp, the materials are too large to pass through the postal system as standard letter post.
For up to date information of any price changes or holiday closures, please visit our facebook page, (link is on the left of this page).
Our address is: Seat Weaving Supplies, 210 Station Road, West Moors, Ferndown, Dorset. BH22 0JD.
General Terms and Conditions:
Payment and Delivery
Due to the high cost and other difficulties with shipping bulky items overseas we primarily only supply materials to UK addresses. Goods are dispatched upon receipt of payment. We accept most credit/debit card payments over the phone, cheques and postal orders by post - please request a pro-forma invoice by e-mail or phone for postal payments. Allow up to one week for delivery, if we have confirmed that your order has been posted via Royal Mail and it fails to arrive within 7 days, please check with your local Royal Mail Sorting Office, (not the local Post Office branch) to see if they are holding it for you. The postman is supposed to leave a card to inform you of inability to deliver but may not always do so.
Supplied Goods
Whilst we are able to offer help and guidance on the correct use of materials, no responsibility can be accepted for inappropriate, incorrect or unsuitable use of products. Weights of natural materials are nominal due to the likelihood of moisture loss/gain during storage, shipping and use.
Returned Goods - Distance Selling Regulations 2000
Returned incorrect or faulty goods will only be accepted within 14 days of purchase, a refund or credit note (whichever is most suitable) will be issued for the purchase price, postage is non refundable. You are not obliged to tell us that you are returning goods but it does help if you do discuss it with us first. Please be sure to pack goods adequately to ensure that we receive the materials in undamaged condition as supplied.